The Handpiece: A Vital Part of Clinical Outcomes
Related Podcast from The Dr. Phil Klein Show:

The Hands, the Handpiece...or a Little of Both?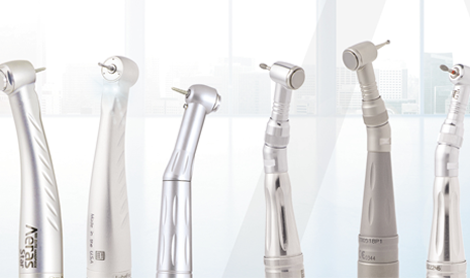 Your dental handpiece is the workhorse of your practice. But even though you need it to perform reliably day after day, in a manner that gives you predictable clinical outcomes, chances are you take it for granted. Perhaps it's time to change that!
There are significant differences between dental handpieces
Many dentists see handpieces as a commodity and simply shop on price. They figure that success is all in the hands of the operator.
But as Dr. Chad Duplantis, an author, lecturer and key opinion leader in dentistry who maintains a private practice in Fort Worth, Texas observes, yes, your hands are important, but the handpiece also plays a vital role. And all handpieces are not the same.
For best results you want a dental handpiece that is dependable, light weight, comfortable, fast, efficient and low-maintenance. In addition, you need to look at a very important but often-overlooked factor: Does the handpiece have the appropriate torque? How much power will it deliver when you're working on a tooth?
Why your handpiece's torque is so important
"Everything can sound great within the handpiece," Dr. Duplantis points out, "but without the appropriate torque you might be cutting forever!"
What if you need to cut through a zirconia restoration? "It's not a fun process!" Dr. Duplantis exclaims. "A lot of people will sell burs and ultimately the bur plays a part, but the handpiece plays the biggest part. So we want something that's going to be powerful enough."
The torque and power is also important for working with ceramics. Since the newer, harder materials will increase the wear and tear on your handpiece's turbine, your handpiece needs to be durable enough to withstand the stress of these materials. An underpowered handpiece will quickly wear out.
The electric vs. air-driven debate no longer comes down to power
Beyond the attributes listed above, "One of the biggest decisions that we have to make in our practice when we're choosing a handpiece," says Dr. Duplantis, "is are we going to go air driven? Are we going to go electric? And I know that there are proponents on both sides of it. It used to be that electric was so much more powerful than air-driven and was going to provide the best results, and that's not the case anymore. There are air-driven handpieces that are starting to rival the power and torque of the electric handpiece."
One such handpiece is DENTALEZ's Aeras 500. The Aeras 500, Dr. Duplantis shares, has a few unique features. "The first," he states, "is that it has 39 watts of power, which is very impressive compared to some of its competitors. Second, the turbine replacement is just super easy to do. They have a really quick and easy way to just snap off the back of the handpiece, pull out the previous turbine and place the new turbine in. You do it in your office!"
"As far as the looks and feel," he continues, "it feels exactly how I want an air-driven handpiece to feel. It's not clunky. It's not heavier because it has extra power, so it's very easy to use in your hands. And they have one that is lubricant free that's designed to make it easier to maintain."
In addition, the Aeras 500 has radio frequency identification (RFID) technology. This is great for larger group practices, as it allows you to track and keep a closer tab on the maintenance and record keeping of each individual handpiece.
Conclusion
Your handpiece plays a vital part in your clinical outcomes. Be sure you select a handpiece that will get the job done well.