The Latest Zirconia Innovation
Related Podcast from The Dr. Phil Klein Show:

Zirconia Myths and Realities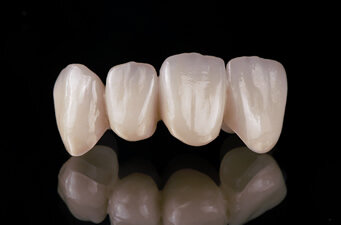 When it comes to choosing the right material for an indirect restoration, the decision point has always come down to two things: strength vs. aesthetics. When strength is what is needed most, zirconia has been the clear winner. When aesthetics is most important, lithium disilicate has become the go-to material.
Now an innovative new zirconia is changing this.
Translucence in zirconia
Starting in around 2015, improvements in zirconia's translucence resulted in a huge increase in the use of this material. How was this increased translucence achieved? Through the incorporation of a cubic phase, via the addition of yttria. The material's "Y value" (i.e., 3Y, 4Y or 5Y) denotes the percentage of yttria that has been added, and therefore correlates to the percentage of cubic phase that it has. The higher cubic phase materials, which are the 5Y materials, are the most translucent.
However, as Dr. Edward McLaren, a practicing prosthodontist, master dental ceramist, author and teacher, asserts, what is really needed are multi-translucent materials. Over the years dentists have been using layering to achieve multi-translucence, but this type of layering is a difficult and dying skill set.
A far better solution is to have a multi-translucent material that is a monolithic material… and that's what Ivoclar has created with its breakthrough new zirconia, Prime Zirconia and Prime Esthetic Zirconia. This new material offers strength and aesthetics for nearly all restorations.
A new zirconia material
Referring to Prime Zirconia, Dr. McLaren explains, "Ceramic engineers came up with a way to put a gradient of yttria in the zirconia, so that it creates different levels of cubic phase. It's an absolutely completely unique material in that we not only have a gradient of color, we also have a gradient of translucency and a gradient of strength.
"In one material they were able to create a multi-gradient of three different kinds of zirconia – 3Y, 4Y and 5Y. With a multi-translucent material that's a monolithic material, we now have something that's much more similar to the optics of a natural tooth. We have more opacity deeper in the tooth, more chroma deeper in the tooth where we need it. And more translucency / less chroma on the surface where the enamel is."
In addition to this multi-translucence, because it is also multi-layer, Prime and Prime Esthetic also provides strength where it is most needed, which is deeper in the restoration towards the core or in the connector. This is because the deeper, denser color that is deeper in the material is stronger, like the original 3Y and 4Y zirconias.
Using and bonding this new zirconia material
If designed, machined and fired correctly, Prime and Prime Esthetic can be used for nearly all of your crown and bridge cases. However, as Dr. McLaren points out, "There's probably one circumstance with any monolithic that is a challenge: a single central. A single central, especially a polychromatic single central, we probably will still be layering into the future."
From the bonding standpoint, the MDP primers provide excellent early bond strength for zirconias. Laboratory studies are showing that you get the same bond strength as an etched porcelain or etched glass ceramic. "The concern," observes Dr. McLaren, "is we don't have any long-term data."
Because, like all zirconias, the internal surface of this material is not etchable, Dr. McLaren provides some advice for avoiding having a completely non-retentive preparation. "You can get it a little rough with sandblasting," he says. "So you get a little bit of micro-mechanical retention right there. And I would probably put a little bit of some subtle retentive elements, even if it's just an onlay. Maybe a little small box, a little small groove, something like that, just to help with retention, even though you are planning to bond it."
Material and shade selection
For a posterior restoration, Prime is the best choice, because it has more of the 3Y higher strength material. As you move to the bicuspids and anterior part of the mouth, Prime Esthetic will provide the maximum translucency you need. Either way, when you design this in your software, be sure that your restoration is made from a spot of the puck where you still have a little bit of the stronger 4Y layer.
Regarding the shade, Dr. McLaren typically likes to choose a material that is one shade brighter than what you would normally want to use. "As a simple example," he shares, "let's say it's an A2. I would choose an A1 puck. I would machine an A1 restoration, and then that gives me the ability to custom color it a little bit. I can add a little bit of chroma on the gingival third. I can add a little bit of pseudo translucency in the incisal third. When you do that, it actually lowers the value a little bit. So it turns an A1 into a more aesthetic A2. But if I choose an A2 block and I want an A2 finish, I can't add the extra color, because it'll make it too low in value."
Of course, regardless of the type of material you are using, if you do not have Dr. McLaren's skill set as a ceramist, doing this type of custom color work involves finding a lab that will provide the output you're looking for, and accurately communicating what you want with them.