Using Short Fiber Reinforced Composites to Prevent Cracked Teeth
Related Podcast from The Dr. Phil Klein Show:

Use of Short-Fiber Reinforced Composites to Rescue Cracked Teeth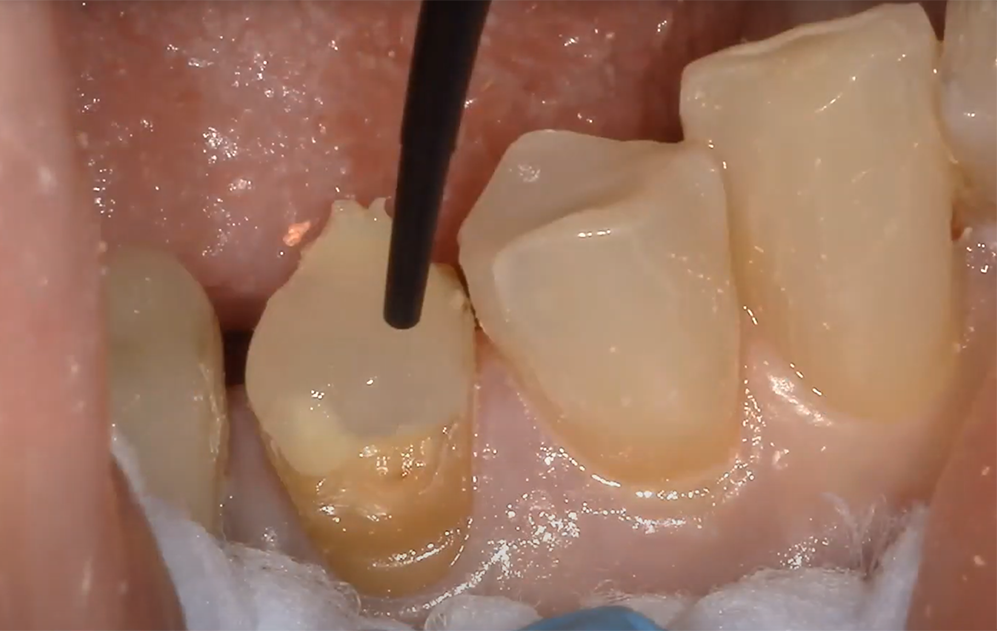 "Broken hearts heal with time, but broken teeth never do."
~ Joe Abercrombie
Unfortunately, broken (i.e., cracked) teeth are seemingly as common as broken hearts. A patient will bite down on something hard and a crack will propagate from the mesiobuccal cusp right down into the dentin, and sometimes into the pulp. Even if that tooth already has composite in it, quite often it still cracks into the dentin.
Wouldn't it be great if you could take action to prevent this when you do a restoration? As Dr. Ron Kaminer, an internationally-known educator who maintains three practices in New York explains, you can.
The case for short fiber reinforced composites
"Enter the short fiber composites!" Dr. Kaminer exclaims. "These fibers are meant to act as a kind of 'rebar,' if you think of a cement structure. When that composite is interlaced into those fibers, it forms this stronger union and bond to the tooth structure. So then if someone cracks that mesiobuccal cusp, it's going to end at that composite and stop there."
Products such as everX Flow™ from GC America have short fibers that serve as a matrix to strengthen the tooth as well as the union of the buccolingual mesiodistal aspects of the restoration. This helps prevent fractures from being carried down through the rest of the restorative material.
How well do short fiber reinforced composites handle and adapt?
Intuitively, if you think about a composite that's flowable, the handling characteristics and adaptation are key things for a clinical dentist. With everX Flow™ the consistency is a flowable, so it provides excellent adaptation. However, the consistency is, as Dr. Kaminer puts it, "an interesting flowable."
"I think there's a tiny learning curve here – just one case or a half case – because it's different than what we've used," Dr. Kaminer declares. "The learning curve is that this material doesn't flow like a regular flowable composite. It almost flows like Vaseline® in a syringe. It flows everywhere. But it doesn't run, and it places. You can take a plastic instrument and mold it around, or smear it where you want, and it just sits where you place it."
Even though it contains the fiber reinforcement, you treat it like a regular composite. You etch, place your bonding material on the dentin, and then either bulk fill with the bulk shade or use the dentin shade as a regular composite.
In addition to its strength, another big benefit of this material is that it cuts like dentin. "One of the tricky things with most core materials," Dr. Kaminer points out, "is you cut from tooth to core material, and you'll ditch the core material because it's softer than the tooth. But this material actually cuts like dentin. When you cut on it, you have the feel of dentin, so you're not going to ditch it."
When can you use a short fiber reinforced composite?
"The bulk fill everX Flow™ can be cured up to 5.5 millimeters," Dr. Kaminer states, "and the dentin shade composite 2 millimeters, so we can use it in a variety of ways." This includes:
· As a build-up material, including as a replacement for a post if there are buccolingual walls.

· In a deep restoration in a sandwich technique, using the dentin shade of the short fiber reinforced composite below and capping it with a universal composite. This is an especially good approach if you have any kind of aesthetic situation, such as the upper or lower bicuspid. This gives you fiber reinforcement at the base – as you have fibers grabbing the walls, keeping it together – and a strong aesthetic composite over the top.

· As a base material, such as in a deep Class II restoration where you would usually start with a flowable and then top it with a composite. Since this material is a flowable, it can get into all the nooks and crannies.

· As a temporary solution before a final crown, particularly when you need to get a patient through a period during which they are not able to get a full crown due to financial or health limitations. This can help prevent the tooth from fracturing until a full crown can be placed.

· Under zirconia crowns. Zirconia crowns have no give. They are so hard and strong that every force placed on that tooth is carried through. The underlying material must be strong enough to sustain that.


"There are a lot of different ways to use the material," Dr. Kaminer shares, "and it's something that we use day in and day out in the office."