Episode 473:
Performing Biopsies as a General Dentist: Simple Techniques and How To Bill For It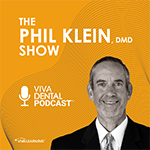 Dental podcast: I'm Dr. Phil Klein. In this podcast, we'll answer some common questions about the role of the GP in detecting oral cancer and how general dentists can become proficient in oral cancer screening and biopsy techniques. We'll also talk about how to bill for these life-saving services. Our guest is Dr. Robert Convissar, a general practitioner with over 40 years of clinical experience. In addition to maintaining a private practice in New York City, he also lectures worldwide on laser surgery, biopsy techniques and infant tongue tie release. Dr. Convissar is the author of over half a dozen textbooks and well over a dozen peer-reviewed scientific publications.
Podcast Exam
Please
Log in
to take exam and earn CE credit.
More Podcast Episodes You Might Like