Episode 498:
Transform Your Practice with Autoclave WiFi Connectivity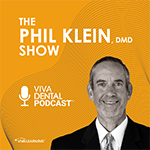 We all use WiFi everyday. In addition to cell phones and TVs, many of our devices and appliances, often referred to as IoT, Internet of Things, rely on WiFi to operate properly. When it comes to our dental practice, there are huge advantages to having WiFi capabilities integrated into our sterilization equipment. To tell us more about it is Our guest Michelle Strange. Michelle is a registered dental hygienist with over 20 years of dental experience.
Podcast Exam
Please
Log in
to take exam and earn CE credit.
More Podcast Episodes You Might Like

Episode 498. Transform Your Practice with Autoclave WiFi Connectivity
9/11/2023 - CE Credits: 0.25 CEU
(
Take Exam
)

Episode 293. Sterilization Protocols Post Covid-19: Biological & Chemical Indicators, High Thermal Washers, and PPE
5/6/2021 - CE Credits: 0.25 CEU
(
Take Exam
)
View All Episodes from this Supporter »