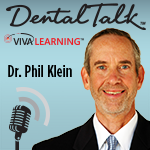 Supporter: Kuraray Dental Welcome to the Kuraray series of VivaPodcasts. Top KOLs will address clinical techniques, new products and the latest research and development at Kuraray.
---
Episodes from this Supporter: (2)
CAD/CAM and Zirconia: Predictable Restorative Outcomes
CE Credits: 0.5 CEU
Release Date: 1/13/2020
Dental podcast hosted by Dr. Phil Klein: This Viva Podcast will learn about Zirconia and the guidelines for restorative preparations. We will also discuss milling options, finishing techniques and bonding protocol. Our guest is Dr. Greg Campbell, a graduate of the University of Southern California School of Dentistry with advanced training in Cosmetic Dentistry from UCLA. He is an active member of the American Dental Association, California Dental Association and the Harbor Dental Society.
One Cement. All Indications. One Prime Procedure.
CE Credits: 0 CEU
Release Date: 9/13/2019
Dental podcast hosted by Dr. Phil Klein: This Viva Podcast will discuss the use and importance of adhesive cements for crowns, bridges and veneers. Our guest is Dr. Daniel Vasquez, who has been in private practice since 1999 in San Diego, California. As an opinion leader for multiple Dentsply Sirona Dental Partners, Dr. Vasquez has a great understanding of all dental materials including protocols to be used for most CAD-CAM blocks, stain/glaze, and dental bonding systems. He has lectured all over the U.S. and internationally.