Episode:
Recognizing Implant Disease and What We Can Do About It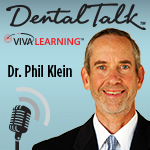 Supporter: Sunstar
CE Credits: 0.5 CEU
Dental podcast: Welcome to DentalTalk. I'm Dr. Phil Klein. In today's podcast we will discuss how we can recognize implant disease and prevent loss of implants with innovative chairside techniques. We will also address user friendly oral hygiene practices for our patients to use at home in order to maintain the life of their respective implants. Our guest is Dr. Samuel Low, Professor Emeritus at the University of Florida, College of Dentistry and an Advisor Member of the Pankey Institute. He is past President of the American Academy of Periodontology and a current officer of the Academy of Laser Dentistry.
Podcast Exam
Please
Log in
to take exam and earn CE credit.
More Podcast Episodes You Might Like

Recognizing Implant Disease and What We Can Do About It
9/22/2022 - CE Credits: 0.5 CEU
(
Take Exam
)

Challenges and Solutions in Managing Implant Disease
3/23/2021 - CE Credits: 0.25 CEU
(
Take Exam
)
View All Episodes from this Supporter »