Episode 251:
A New Era in Dentures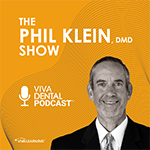 Supporter: Ivoclar
CE Credits: 0.5 CEU
Dental podcast hosted by Dr. Phil Klein: Today we'll be discussing digital dentures, a new era in dentures influenced by digital technology. Our guest is Dr. Faraj Edher, a Specialist in Prosthodontics and the Director of the Digital Dentistry Institute, a global educational organization that conducts comprehensive training programs in digital dentistry and implant dentistry. He is also a Clinical Assistant Professor and guest lecturer at the University of British Columbia and has numerous publications in areas such as digital dentistry and dental implants.
Podcast Exam
Please
Log in
to take exam and earn CE credit.
More Podcast Episodes You Might Like