Episode 331:
The Age of Digital Dentures is Here: It's a Game Changer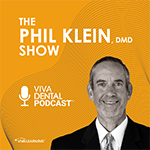 Supporter: Ivoclar
CE Credits: 0.5 CEU
Dental podcast: Welcome to DentalTalk. I'm Dr. Phil Klein. Removable Prosthetic treatment options have changed to include digital workflow solutions. Today we'll be discussing CAD/CAM technologies and how digital workflow solutions can help us achieve consistency, predictability and simplicity in our removable prosthetic cases. Our guest is Robert Kreyer, a Certifiied Dental Technician with an extensive background and award-winning leadership in dental implants and dentures and has published numerous articles on removable prosthodontics.
Podcast Exam
Please
Log in
to take exam and earn CE credit.
More Podcast Episodes You Might Like