Episode 454:
Simplifying Concepts for Veneer Treatment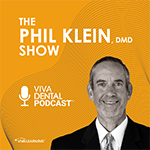 Supporter: Bisco
CE Credits: 0.25 CEU
Dental podcast: Welcome to DentalTalk. I'm Dr. Phil Klein. Today we'll be discussing concepts for veneer treatment and how you can become more confident and comfortable in providing cosmetic veneer procedures to your patients. Our guest is Dr. Todd Snyder, a regular contributor to Viva Learning.com, a cosmetic dentist, international author, lecturer and consultant to a variety of dental companies. He hosts a weekly podcast, Delusional: Winning the Weekly War of Dentistry. You can reach Dr. Snyder at: www.Legion.Dentist.
Podcast Exam
Please
Log in
to take exam and earn CE credit.
More Podcast Episodes You Might Like