Episode 497:
Geriatric Dentistry: Are You Prepared to Treat the Influx of Aging Patients?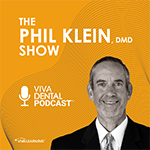 The geriatric adult population is expanding rapidly in the United States. How will this effect your dental practice and what do you need to do to prepare for the influx of aging patients. To tell us more about this is a remarkable man and dentist, Dr. Terry Grant. He is changing the lives of many older patients who would otherwise not get the special care he and is staff are providing. Dr. Grant has over 30 years experience as a Cosmetic, General, and Geriatric Dentist. He was awarded "Diplomat in Geriatric Dentistry" by the American Board of Special Care Dentistry and The American Society for Geriatric Dentistry. He was honored by the U.S. Congress for his service as a Geriatric Dentistry Expert.
Podcast Exam
Please
Log in
to take exam and earn CE credit.
More Podcast Episodes You Might Like