Episode 474:
Tooth Replacement Using Minimally Invasive Adhesive Bridges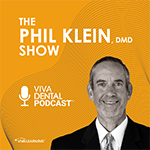 Dental podcast: Welcome to DentalTalk. I'm Dr. Phil Klein. Today we'll be discussing tooth replacement using minimally invasive adhesive bridges. Our guest is Dr. Jose-Luis Ruiz, who has been named as one of the "Top Clinicians in CE" between 2006-2011 by Dentistry Today. He is the director of the Los Angeles Institute of Esthetic Dentistry and past course director of the "University of Southern California's Esthetic Dentistry Continuum" from 2004-2009. He has been in full time private practice in the Studio District of Los Angeles for 20 years.
Podcast Exam
Please
Log in
to take exam and earn CE credit.
More Podcast Episodes You Might Like