Episode 281:
Part 1: Infection Control During and After COVID-19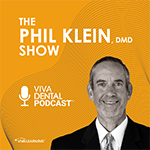 Supporter: SciCan
CE Credits: 0.5 CEU
Dental podcast: Welcome to DentalTalk. I'm Dr. Phil Klein. This episode, Part 1 of a 3-part series, addresses COVID-19 and the aftermath related to the COVID-19 vaccine, the latest CDC updates and timely and important information on hand hygiene. Our guest is Dr. John Molinari, a microbiologist and leading expert in Infection Control related to hospitals, clinics and dental offices.
Podcast Exam
Please
Log in
to take exam and earn CE credit.
More Podcast Episodes You Might Like