Episode 283:
Part 2: Infection Control During and After COVID-19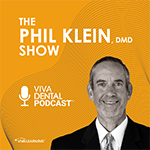 Supporter: SciCan
CE Credits: 0.5 CEU
Dental podcast: Welcome to DentalTalk. I'm Dr. Phil Klein. This episode, Part 2 of a 3-part series, addresses COVID-19 and the aftermath related to masks, N-95 respirators, face shields, eye wear protection, air-borne contamination related to HVAC and air exchanges in the office, engineering controls and biological monitoring. Our guest is Dr. John Molinari, a microbiologist and leading expert in Infection Control related to hospitals, clinics and dental offices. This podcast is made possible by SciCan, a leader in Infection Control products and equipment.
Podcast Exam
Please
Log in
to take exam and earn CE credit.
More Podcast Episodes You Might Like