Episode:
Hemostasis Considerations for GP Surgical Procedures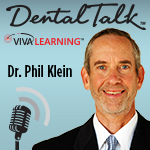 Supporter: Medicom
CE Credits: 0.25 CEU
Dental podcast hosted by Dr. Phil Klein: This Viva Podcast will discuss hemostasis considerations for GP surgical procedures. Our guest is Dr. Martin Jablow, a well-known KOL, regular speaker on Viva Learning and practicing dentist in Woodbridge NJ. Dr. Jablow is an attending dentist at John F. Kennedy Medical Center in Edison, NJ and a member of his county's Dental Peer Review Committee. Dr. Jablow is president of Dental Technology Solutions a lecture and consulting company.
Podcast Exam
Please
Log in
to take exam and earn CE credit.
More Podcast Episodes You Might Like

Hemostasis Considerations for GP Surgical Procedures
7/29/2019 - CE Credits: 0.25 CEU
(
Take Exam
)

Digital impressions: Our Dental Smart Phone
6/19/2019 - CE Credits: 0.25 CEU
(
Take Exam
)

Disinfectant Wipes – Using them Effectively
3/11/2019 - CE Credits: 0.25 CEU
(
Take Exam
)
View All Episodes from this Supporter »